RILEM Newsletter - November 2017

Dear RILEM Members,

Let us summarize our annual week in a nutshell: Two pre-event workshops, 18 sessions, 2 post-event workshops, 5 TC meetings, 5 RILEM standing committee meetings, numerous cultural events, and nice social gatherings and visits …. Those were the elements of the cocktail of

Read more

The 71st RILEM Annual Week took place in Chennai, India and was organized in conjunction of the "International Conference on Advances in Construction Materials and Systems" on 3-8 September 2017. All those present agreed it was a great week, thanks to the organisers!

Please find below the reports ...


Read more

The 2017 Robert L'Hermite Medal was awarded to Ueli Angst, ETH Zürich, Switzerland. He gave a lecture on « Corrosion in construction» on Thursday 7 September. For the first time, the lecture was live webcasted. But if you missed it, no worry!  ...


Read more

Upcoming Spring Convention, Barcelona, Spain, 19-21 March 2018
Mark your calendar for attending the first RILEM Convention meeting to be held next Spring in Barcelona!

RILEM standing committee meetings will be on 19-20 March, on 21 March there will be half day seminar "Advances in Durability and new materials for construction" followed by a technical visit.

TCs are also highly encouraged to join us in Barcelona, it is in fact one of the main aims of the convention to the meeting place four our RILEM TCs during spring in Europe.

See you in Barcelona!

Upcoming 72nd Annual Week, Delft, The Netherlands, 26-30 August 2018
SLD4 is the 4th International Conference on Service Life Design for Infrastructures. The SLD4 conference is jointly organised by Delft University of Technology and Tongji University.

CONMOD2018 is a symposium on Concrete modelling which will be jointly organised by Ghent University with Delft University of Technology. CONMOD2018 is the 5th in a series on this topic dealing with all aspects concerning modelling of concrete at various scales.

A special workshop will be organized on the topic "Concrete Modelling and Material Behaviour" in honour of the retirement of Prof. Klaas van Breugel.

Besides the conference and symposium, the 72nd RILEM Week will take place on 26-29 August 2018 at Delft University of Technology. All the standing committees and some of the active technical committees will meet. If your committee is interested to meet please contact the Secretariat.

For detailed information and regular updates, please check out the conference website: http:/www.rilemweek2018.org

RILEM General Secretariat News Flash
The Secretariat welcomed a new staff member in May: Ms. Sarah K Di Giorgio. For those who haven't met Sarah yet, she is in charge of the members. Please contact her if you have any question regarding your membership: s.kdigiorgio@rilem.org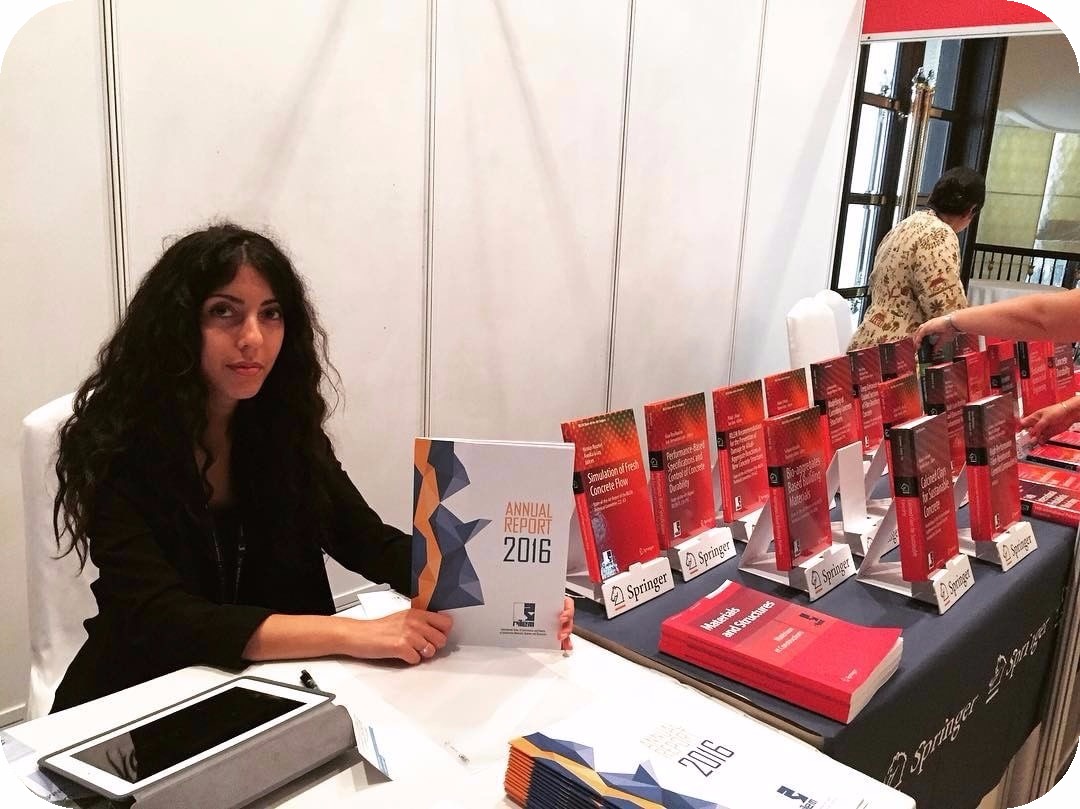 As last year again an Annual report will be published for 2017. Everyone is kindly asked to send just as last year a collection of good illustrations and photos to be taken up in the 2017 Annual Report. The Annual Report will be ready for the RILEM Spring Convention in Barcelona in March 2018.
If you need some flyers and/or Annual Reports to promote RILEM in your conference, please let us know and we will send them to you.

Publications on the website
New Proceedings and report are available on the website:


Read more