News
18 December 2020
First meeting of the RILEM Youth Council
The kick-off meeting of the RILEM Youth Council was held last Monday, 16 December. The online chat gave the opportunity to all participants to introduce themselves and to start to define the work of the following months.
The meeting was briefly attended by Ms Judith Hardy, RILEM General Secretary, Ms Anne Griffoin, RILEM Head of Publications and Communication, and Prof Hans Beushausen, RILEM DAC chair, who had the pleasure to wish all the best to the participants.
Approved during the last RILEM Annual Week, this initiative mainly aims to attract and motivate young RILEM members. The Council members, all PhD students or recently graduated PhD in the early stage of their post-doctoral carrer, will work towards encouraging the participation in TAC and EAC activities of their peers and increasing the awareness on RILEM events and courses. The Council will help to prepare young members for leadership positions. It will showcase and celebrate the achievements of the RILEM Youth and create networks between emerging young researchers.
The Council members are:
Ms Joanitta Ndawula, DAC chair's nominee
Ms Nonkululeko Winnie Radebe, Sub-Saharan Africa representative
Mr. Heongwon Suh, East Asia representative
Mr. Surender Singh, South Asia representative
Mr. Ran Bo, China representative
Mr. Said Bouzit, Middle East & North Africa representative
Mr. Evgenii Rumiantsev, East Europe and Central Asia representative
Mr. David A. Orense, North America & Caribbean representative
Mr. José Vidal González Aviña, Latin America representative
Ms Magda Posani, Europe representative
Ms Marie Joshua Tapas, Pacific representative.
The meeting was also attended by Ms Fanta Sylla, RILEM Management Assistant. Fanta will assist the Council with any query related to the functioning of RILEM.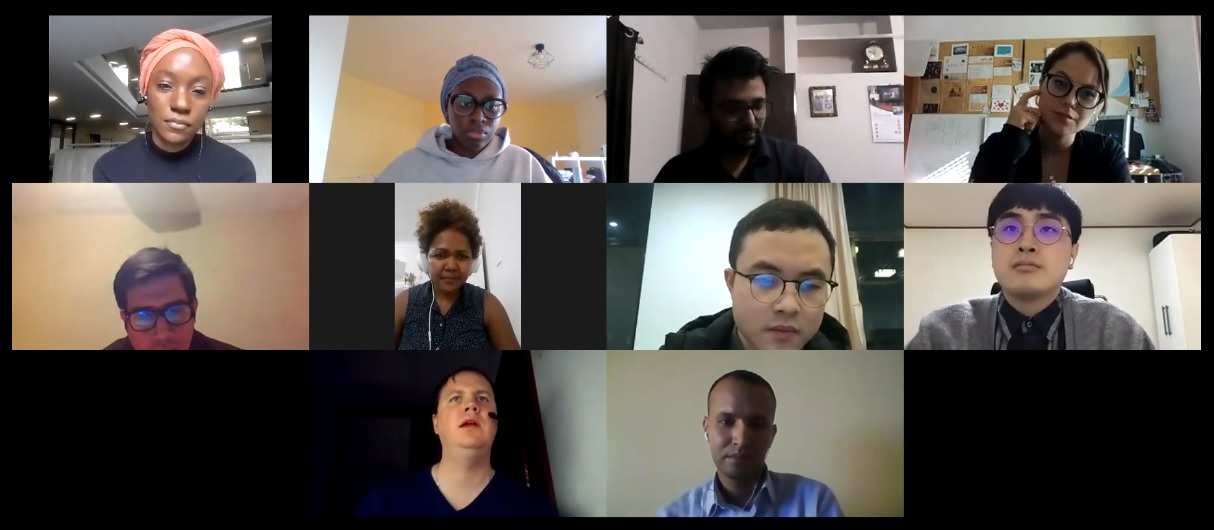 Top row, from the left: Joanitta Ndawula, DAC Chair's nominee – Fanta Sylla, RILEM Management Assistant – Surender Singh, South Asia representative – Magda Posani, Europe Representative
Middle row, from the left: José Vidal González Aviña, Latin America representative - Marie Joshua Tapas, Pacific representative – Ran Bo, China representative - Heongwon Suh, East Asia representative
Bottom row, from the left: Evgenii Rumyantsev, East Europe and Central Asia representative - Said Bouzit, Middle East & North Africa representative
You have to be logged on to leave a comment Log in